OFA / PennHip Radiographs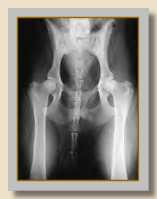 The staff at All Pets can do both OFA and PennHip radiographs. When making your appointment for either of these radiographs, please be sure to bring a copy of your AKC registration as that is needed for the necessary paperwork.
Our staff feels that this form of pre-breeding radiographs are important in ending heritable orthopedic diseases such as hip dysplasia. For more information about hip dysplasia radiographs, please visit the PennHip website.
OFA radiographs are also taken at All Pets.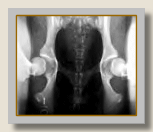 These radiographs can be done without the use of an anesthetic if requested. OFA hip and elbow radiographs are commonly done at our hospital. We will take the necessary safety measures to do these radiographs without sedation, if the dog will allow it. Before arriving for your OFA radiograph appointment, please visit the OFA website to print and fill out the application as well as a copy of your animal's registration papers (AKC,UKC, etc.). We perform x-ray for OFA/PennHip.